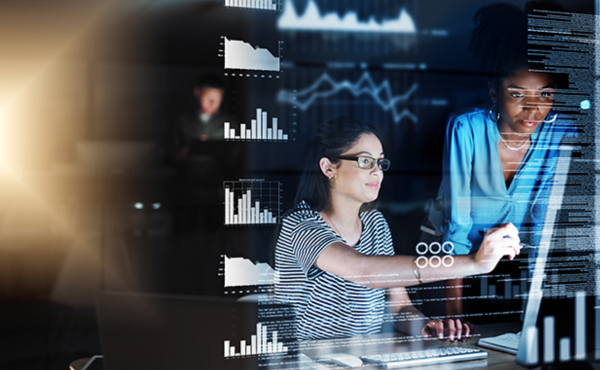 October is Cybersecurity Awareness Month and with that, a great time to assess the security of your MFP. Is your multi-functional printer (MFP) up to the network security challenge?
---
As IT professionals work harder than ever to secure data across the organization, it's become clear that network MFP security is a critical consideration.
Nowadays, MFPs not only make it easy to scan, print or copy from anywhere and share content across your network, they can also act as another layer of security for your IT environment. In fact, as IT pros work harder than ever to secure data across organizations it has become clear that network MFP security is a critical consideration.
It is no secret that in this age of new normality, increased security threats such as phishing or ransomware attacks, are a very real concern. Almost all devices are prone to cybersecurity threats and office printers and multifunction devices (MFPs) are no exception. For example, an attacker might impersonate a corporate entity and send COVID-19 related communications to an organization's employees and customers in order to trick them into sharing confidential information and allowing wrongful actions to take place, such as hijacking of network devices. Consequently, businesses can face many challenges if IT practices are not executed properly, including putting their organization's data at risk.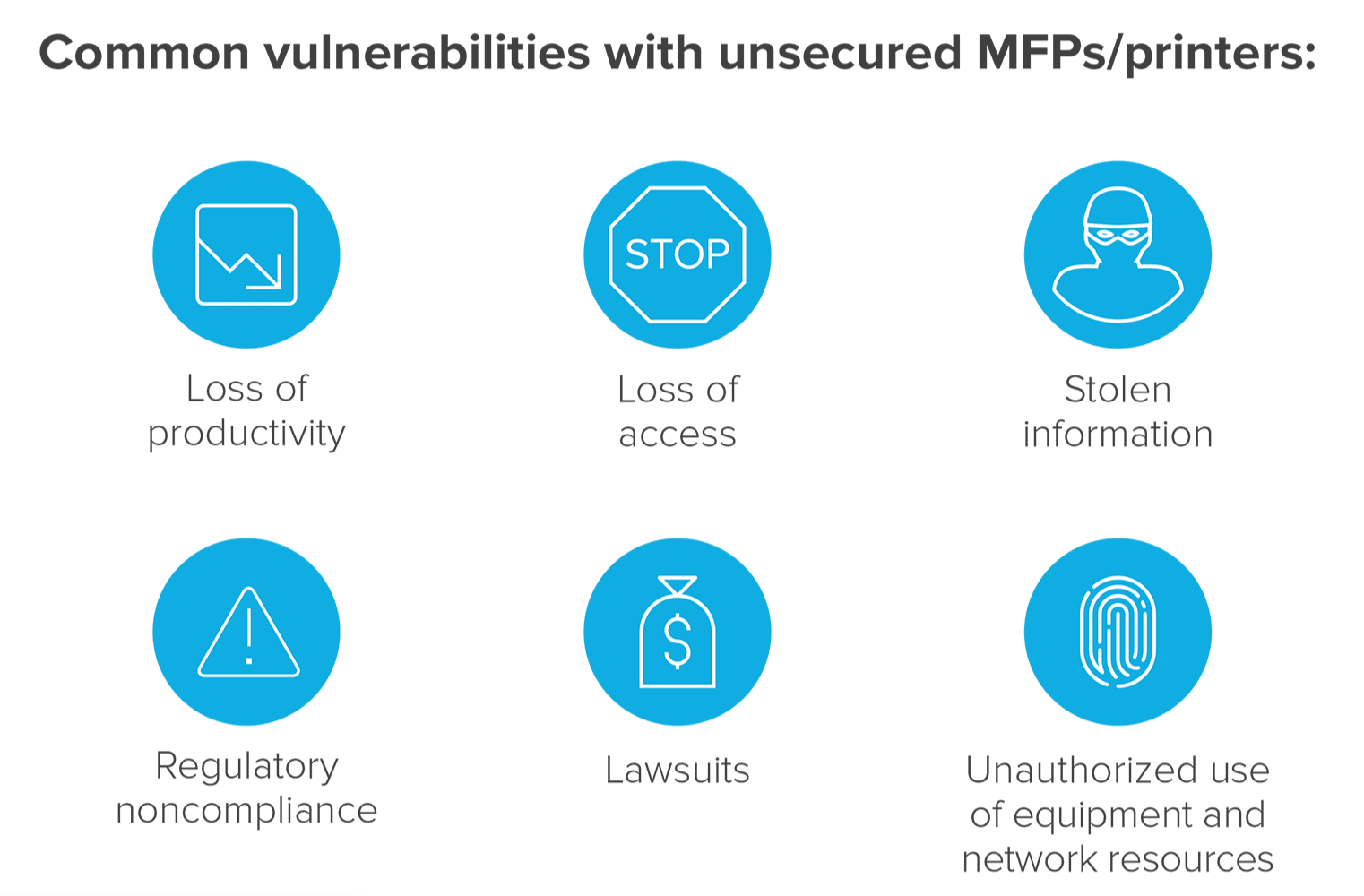 How common are these issues?
63% - Enterprises affected by printer-related security breaches vs. just 22% of Businesses with secure printer practices
Some common practices that can potentially increase threats through an organization's printers and MFPs include:
Not changing login passwords regularly, or not even changing the default passwords
Leaving your network connections unencrypted and unsecure
Unauthorized inbound and outbound email access with the printer or MFP
Unprotected access to the device from a mobile device or cloud service
Employees printing confidential information and forgetting it on the printer tray
Employees scanning or copying secure documents and not retrieving the original copy
Leaving data on a hard drive when trading in a printer or MFP
Given these sensitivities, how can administrators protect themselves from vulnerabilities in the workplace or the home office? To start, Rhyme is an excellent resource for companies interested in learning how to use the correct security settings or implement security applications. Our experts are aware of current cybersecurity threats and can provide proper employee training, protection tips and recovery plans should information be compromised.

Organizations should also properly manage their endpoints and resources in order to protect network and data. Part of this is ensuring they are downloading the latest updates for their devices and maintaining a fresh disaster recovery plan. Businesses should also do their research on companies that offer managed IT services that can serve as an extension of their existing IT staff.
Download Sharp's Security Checklist to learn how to better protect your MFPs from malware, phishing, social engineering and other similar attacks.

While keeping up to date on the safest processes and technologies, it is also important for IT professionals to train their organization's employees to use network devices properly. This includes using caution when clicking links, opening attachments or leaving confidential documents on exit trays. Your employees are your first line of defense against cyberattacks.

See this social engineering red flags checklist.
Sharp MFP Security Features
Another way to protect your organization is by taking advantage of MFP security features that safeguard stored documents and prevent unauthorized access to your network.
Top lines of attack:
Using MFPs to access other machines on the network
Stealing stored versions of sensitive documents
Taking printed documents left in output trays
MFP security features that fight back:
Secure administrative passwords, IP and MAC address filtering, and user authentication
Hard drive data encryption and overwrite
Print retention and user authentication
Today's cybersecurity environment is riskier than ever, which is why it's essential for organizations to better educate themselves. Make sure to arm yourself with the right resources and technology to ensure that confidential materials remain secure.
Resource: Sharp