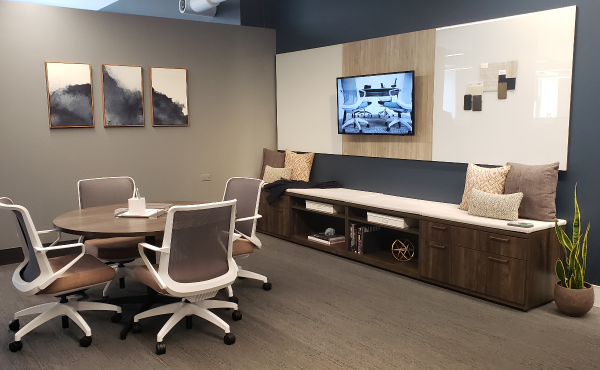 The modern workforce seeks comfortable, inspiring spaces that create a sense of calm and put people at ease – opening the door for creativity to flourish. To adapt to this shift, forward-thinking companies are increasingly developing offices with a residential sensibility in mind. This shift in the workspace has given rise to 'Resimerical' design.
---
What is Resimercial Design?
A combination of "residential" and "commercial," resimercial design brings aspects of home into the contemporary workspace. It combines the strengths of both categories into a desired, fresh option.
There are a number of factors driving this change, from the rise of stylish, highly designed co-working spaces to the need for open office environments to offer more than row after row of workstations. And best of all, lounge furniture encourages something every company wants: collaboration.
A confluence of work and home
Like home furniture, these pieces are softer and more comfortable than typical office options, with colors and design details you might expect in a retail store or in the showroom of a modern home/office design leader. But they're designed and built for daily business use, with more durable construction and materials than you'd find in the home.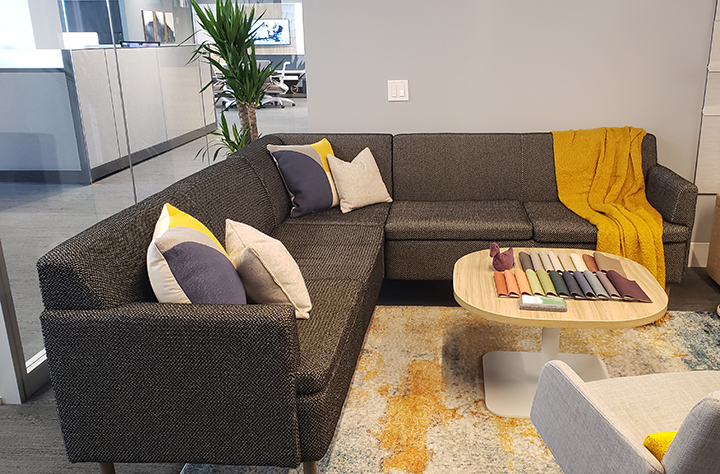 Comfort equals productivity
Moving from a confined or individualized office space to something more comfortable and social can help change an employee's perspective. "Sitting on the couch, opening up a laptop, having a cup of coffee — it puts you in a different head space," says Trevor Roose, Product Marketing Manager for HON.
It also encourages collaboration. "Having a conversation between counterparts can be easier in a more relaxed setting, as opposed to the rigid formality of sitting across a desk from them," Roose says.
"If you're trying to iron out an accounting document, you're still going to sit at a desk for that. But the physical posture of lower, more home-like furniture really does change not only interactions with others, but even yourself. It can provide a minute or two to relax or catch your breath before the next meeting."
Home appeal, commercial toughness
Resimercial products, like HON's new West Hill™ casual lounge collection, pull off a tricky combo: they boast the design appeal of fine home furniture, but are built to withstand the rigors of the workplace.
They're also covered by HON's full lifetime warranty — something that can't be matched by entry-level residential furniture sources that sell a mix of work and lifestyle furniture. These pieces are designed for high use, much more than a typical living room. They're designed to look as good in five years as they do on day one.
Stylish and customizable
This isn't the first time residential-style sofas, chairs, and end tables have been offered for business use. But it may be the most fashionably designed — and flexible. These new styles result in contemporary and comfortable design, with neutral colors that can be customized with bolder throw pillows to match any environment. In other words, they'll make facilities managers and design-minded employees happy at the same time.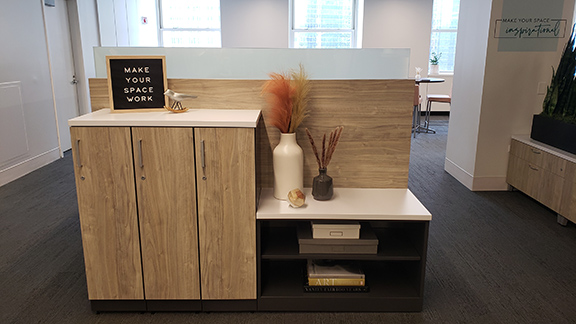 Under-used areas get new life
HON calls them "nooks" — corners and leftover spaces in a building's layout that don't serve a specific purpose. Smaller set-ups, with just a single seat or two-seat lounge, can be a low-risk way to introduce these informal, but functional, arrangements to a workplace.

Resource: Hon
Download the Hon West Hill™ brochure.
Connect with Rhyme's Office Products Team who specialize in creating custom furniture solutions. See more about Rhyme's custom furniture solutions.