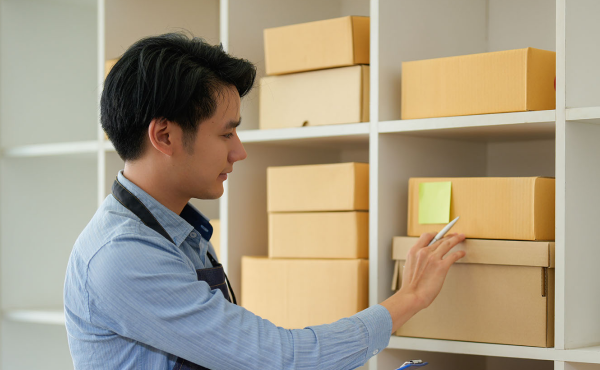 Rhyme Office Product Inventory Management streamlines ordering, stocking, and management of your regularly used office supplies.
---
What is inventory management? What does the process look like working with Rhyme?
OP Inventory management is the process of keeping track of the amount of each office supply item, or a determined list of items, that your office regularly uses. Working with your client manager, based on how frequently you go through each item, we determine the quantity of each item you always want in stock. We also work together to determine the designated areas where items will be restocked. Every month, your client manager will walk through this inventory and determine what quantity remains on each item and order enough of that item to reach the minimum quantity level you want in stock. This streamlines the order process and takes all the work out of your end of supply management.
In the beginning stages of this program, all products are identified, how much you want on shelf at each time, and all the areas where inventory will be stored are labeled, with par level on label. Weekly or bi-weekly inventory checks will be completed by your client manager. They will see what and how much of each item is needed, and place the order. Items will then be delivered next day and stocked by a Rhyme delivery driver or Rhyme Client Manager. This will free up time on your end, eliminating all inventory management from your daily or weekly tasks. Pens, post-its, paper, and all the rest of your daily-use items, will always be in stock ready for your team to use and stored where you want, with no continued management on your part.
What should the client do to ensure a smooth process?
Clients should view this as a trusted partnership. Your designated Client Manager will learn from you and your team, understanding how and what you buy. Once this process is learned, your client manager takes care of the rest. Working together we determine and set areas where supplies will be stored, for example the copy room or mail room areas. We can also designate multiple areas in each building and/or multiple building locations for stocking.
How does a client sign up for inventory management?
Working with a client manager, they will first educate you on process, make sure it is the right fit for you and will bring value to your organization. Your client manager will answer any questions or concerns you may have and then take on responsibility of inventory management. We see this as a service that will be greatly beneficial for your business and exemplifies Rhyme's dedication to exemplary service we strive to provide to all of our clients.
Is there any cost associated with the program?
This service is offered at no additional cost to our clients and signing up is as easy as starting the conversation with your Client Manager.
Download Rhyme's Office Products Inventory Management FAQ Flyer.