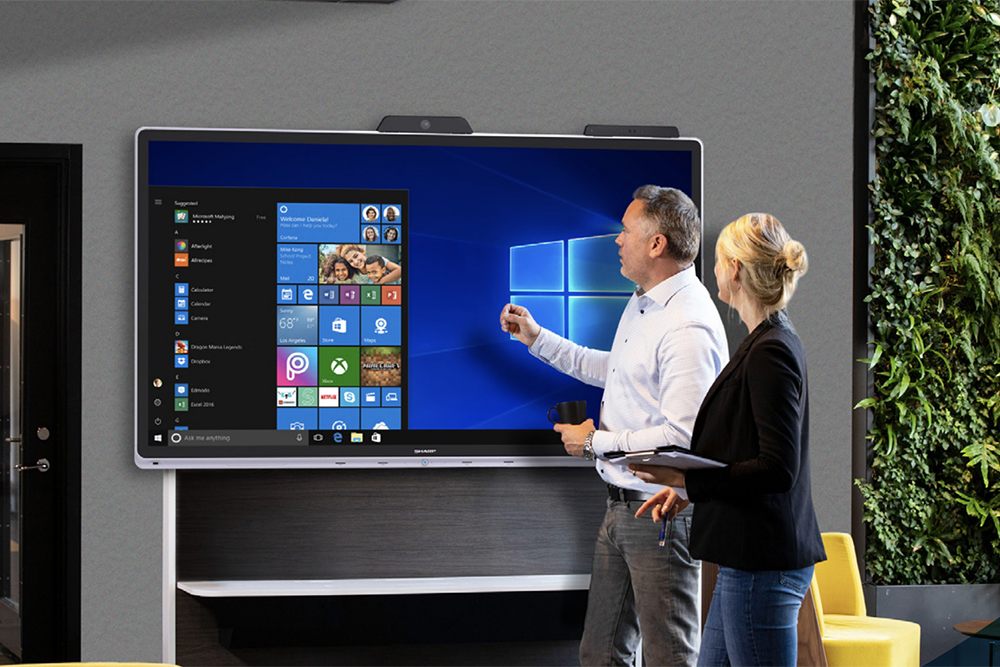 Studies have shown that uncomfortable environmental conditions can negatively affect performance in the office and meeting rooms, and this is no different in our home workspaces. Few factors are more important to maintain concentration than access to fresh air, natural light and a comfortable temperature.
---
This provides a strong business case to control and adapt these conditions to boost productivity and performance in meetings.
The Windows Collaboration Display from Sharp (PN-CD701) includes a next generation 4K 70" Class (69.5" diagonal) interactive display, built-in microphone, 4K camera and IoT sensor hub that works seamlessly with the best Microsoft 365 collaboration tools. It's all backed by the cloud to deliver outstanding ease of use and enable the continual analysis of meeting room conditions and usage.
Creating a meeting environment in which everyone is relaxed can pay real dividends by improving the productivity of group work. Sharp Synappx WorkSpaces on the Windows Collaboration Display give businesses of all sizes the information intelligence to adapt the ambient conditions in each meeting room, to suit the number of people and the type of activities taking place. These conditions include the temperature, humidity, air quality and lighting, all conducive to creating the perfect environment. So, every time a new meeting or training sessions starts, organizers and participants don't have to worry about adapting the conditions of the room as it is automatically optimized for their needs. By ensuring that people are physically more comfortable, everyone can simply pay attention to what's on the agenda and focus on working more collaboratively.
Temperature
Its intelligent climate measurement can be used by an AI service to automatically regulate the room temperature and relative humidity to make the room feel comfortable.
Occupancy
A motion sensor can detect the presence of any people in the room and an AI service can analyze this data and count the number of people. Additionally, an AI service can detect the location of whoever is speaking and control a three-dimensional microphone array to focus on the relevant person.
Air Quality
Levels of air quality and temperature in the meeting room can be measured and can assist another AI service to automatically adjust the air conditioning to provide the best possible working environment.
Light
An ambient light sensor helps with intelligent lighting control, as it automatically measures the level of light. An AI service could then adjust the in-room lighting system with changing day and night conditions, which can reduce eye strain and may save money on wasted energy.
Resource: Sharp Business USA